Sony Xperia XZ Premium w Portugalii - relacja z warsztatów slow-motion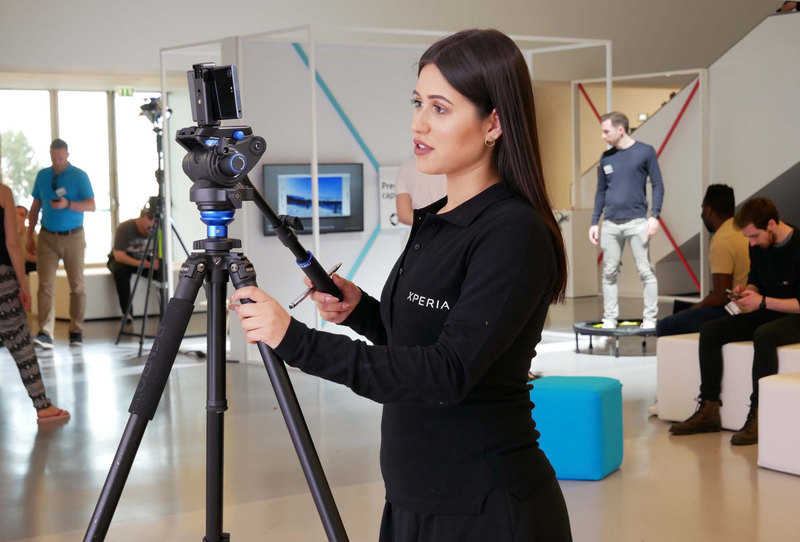 Sony zaprosiło dziennikarzy z całego świata do Portugalii, aby zrealizować  specjalny film w trybie slow-motion. Pod nadzorem reżysera, dziennikarze mieli zarejestrować smartfonami Sony Xperia XZ Premium widowiskowe sceny w 960 klatkach na sekundę. Zebrany materiał zostanie złożony w specjalny materiał demonstrujący możliwości najnowszego smartfona Sony. Wśród 5 redakcji z Polski znalazło się także GSMONLINE.PL.
Sam smartfon Xperia XZ Premium mieliśmy już okazję poznać na tegorocznych targach MWC w Barcelonie. Spośród największych producentów smartfonów, Xperia XZ Premium ma najlepszy stosunek specyfikacji do ceny. Wyposażona w najmocniejszy Snapdragon 835, 64 GB wbudowanej pamięci, 4 GB RAM i wyjątkowy aparat, Xperia będzie tańsza zarówno od LG G6 jak i Samsunga S8. Jej cena to w Polsce to 3199 zł. Dodatkowo w przedsprzedaży, która rusza 8 maja 2017 roku do telefonu będą dodawana gratis słuchawki bezprzewodowe z redukcją szumów Sony MDR-100ABN – ich cena rynkowa to 1200 złotych.
Sony dostarcza matryce światłoczułe do zdecydowanej większości smartfonów na rynku, w tym do iPhone'a czy LG G6. Jednak po raz pierwszy japoński producent postanowił zachować najnowszą i najlepszą matrycę wyłącznie dla siebie. W modelu Xperia XZ Premium ma ona rozdzielczość 19 megapikseli. Przed matrycą znajduje się przeprojektowany obiektyw jasności F/2.0 o ogniskowej 25 mm. Ma on być ostrzejszy na krawędziach niż w poprzednich modelach. Najważniejszą nowością jest jednak dodanie bezpośrednio do matrycy bardzo szybkiej pamięci, która jest w stanie zbuforować ogromną ilość danych w krótkim czasie, dzięki pięciokrotnie szybszemu transferowi. Pozwala to na zarejestrowania fragmentu nagrania wideo z szybkością 960 klatek na sekundę i przesłania go do zwykłej pamięci bez przerywania nagrania. W efekcie użytkownik ma możliwość nagrać normalny, dowolnej długości film, którego fragmenty zostaną spowolnione ponad 30 krotnie. 
Guzik aktywujący super slow-motion można wcisnąć dowolną ilość razy podczas nagrywania. Jedynym ograniczeniem jest szybkość opróżnienia bufora szybkiej pamięci, co zajmuje około 2 sekund. Materiał rejestrowany w trybie, w którym dostępne jest ogromne spowolnienie, ma jakość 720p, finalny klatkarz to 30 ramek na sekundę. Wideo ma przepływność 12 megabitów na sekundę, czyli tyle, ile YouTube przewiduje dla materiałów 1080p w 60 klatkach na sekundę. Materiał nie jest przeskalowywany z niższej rozdzielczości, lecz odpowiada normalnemu nagraniu 720p, co często nie jest oczywiste nawet przy nagraniach z mniejszym klatkarzem, zwykle wynoszącym 120 ramek na sekundę.
Można się spierać ilu użytkowników smartfonów jest w stanie docenić nową funkcję, jednak dla mnie efekty są bezdyskusyjnie widowiskowe. Nie każde nagranie zyska na takim slow-motion, ale praktycznie każdy szybki ruch będzie wyglądał wręcz magicznie. Skok z pomostu do wody, ochlapanie kogoś na plaży, niektóre dyscypliny sportowe, zwierzęta domowe w ruchu - wszystko to będzie wyglądało obłędnie po 32 krotnym spowolnieniu nagrania, nawet jeżeli na zwykłym filmie wygląda banalnie.
Na tym zalety Xperia XZ Premium się nie kończą. Jako jedyny smartfon na rynku posiada 5,5 calowy ekran 4K wspierający technologię HDR, która umożliwia wyświetlenie materiału o szerszym zakresie tonalnym. Różnica w porównaniu do zwykłego ekranu jest widoczna przy odtwarzaniu tego samego klipu wideo. Aby zapewnić dostęp do materiału mogącego wykorzystywać ekran 4K HDR Sony nawiązał współpracę z Amazon Prime, który takie materiały oferuje, także na urządzeniach mobilnych.
Dla zastanawiających się czemu Sony pozostało przy tradycyjnym designie z szerokimi ramkami poniżej i powyżej ekranu, producent ma proste uzasadnienie. Nowa matryca aparatu jest na tyle duża, że nie zmieściłaby się, gdyby umieścić ją pod ekranem lub innymi podzespołami telefonu. Wówczas albo obiektyw wystawałby poza obudowę, albo cały smartfon byłby znacznie grubszy. Obecnie układ aparatu wykorzystuje całą grubość telefonu w górnej części urządzenia. 
Jeśli dodać do powyższych cech wodoszczelność według normy IP68, szkło Gorilla Glass 5 oraz baterię 3230 mAh to Sony Xperia XZ Premium jest naprawdę ciekawą propozycją, którą z przyjemnością sprawdzę w trakcie pełnoprawnej recenzji. Podoba mi się, że japoński producent konkuruje jednocześnie niższą ceną i unikalnymi cechami aparatu.