LG G6 - premiera na MWC 2017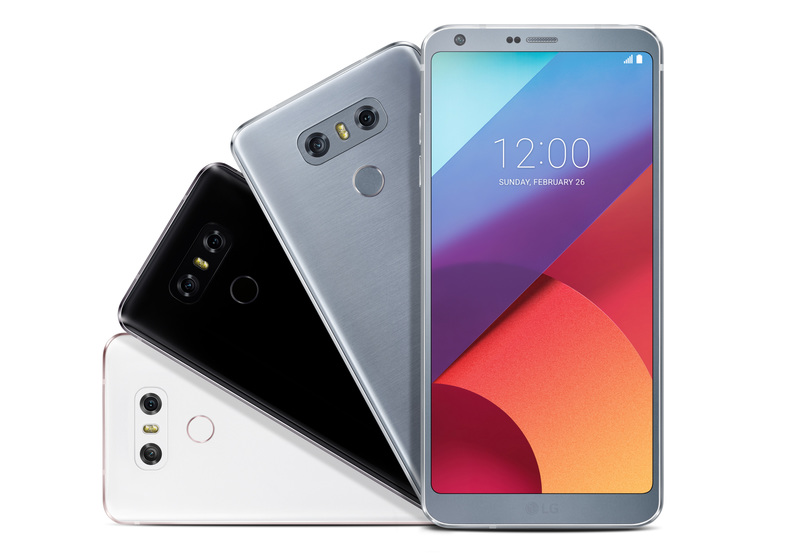 LG na targach MWC 2017 oficjalnie zaprezentowało swój flagowy smartfon LG G6.
Zapis wideo konferencji prasowej:
Filmy prezentujące LG G6:
LG G6 posiada 5,7-calowy ekran QHD (2880 x 1440) FullVision i zastosowany po raz pierwszy w smartfonie format wyświetlania treści w proporcjach 18:9. LG G6 może także wykonać kwadratowe zdjęcia, które doskonale nadają się do zamieszczania na Instagramie czy Snapchacie lub wykorzystania w innych mediach społecznościowych. Użytkownik może sam zdecydować który z formatów chce wybrać: 4:3, 16:9 lub 18:9.
LG zapewnia, że dzięki nowemu formatowi ekranu G6 komfortowo leży w dłoni i pozwala zapomnieć o problemach, jakie zwykle sprawiają smartfony podobnych rozmiarów. Zespół ds. ergonomii pod kierownictwem dr. Andrisa Freivaldsa z Pennsylvania State University testował model LG G6, sprawdzając, czy telefon trzymany w jednej dłoni pozostaje stabilny, czy wygodnie korzysta się z niego w różnych pozycjach i do różnych celów, a także jak długotrwałe korzystanie ze smartfona wpływa na zmęczenie mięśni. LG G6 uzyskał najwyższe oceny w każdej z tych kategorii.
LG G6 to pierwszy smartfon, w którym zastosowano standard Dolby Vision, dzięki któremu użytkownicy mogą cieszyć się lepszą jasnością, kontrastem i kolorami.
Obudowa LG G6, dostępna w kolorze białym, platynowym i czarnym, to połączenie dwóch materiałów: aluminium i szkła. Tył urządzenia jest idealnie płaski – nie ma wypukłości w postaci kamery. Rogi obudowy i wyświetlacza zostały delikatnie zaokrąglone.
W ramach specjalnej oferty proponowanej wyłącznie użytkownikom modelu LG G6 przygotowano bezpłatny pakiet sześciu gier – Temple Run 2, Spiderman Unlimited, Cookie Jam, Genies & Gems, SimCity BuildIt oraz Crossy Road – o wartości ponad 200 dolarów. Wspomniane produkcje w pełni wykorzystują możliwości nowego ekranu oraz mogą być obsługiwane za pomocą jednej ręki.
Nowy smartfon LG G6 wyposażono w podwójny aparat tylny 13 MP z szerokokątnym obiektywem (125 stopni). W modelu G6 zastosowano także rozszerzone 100-stopniowe pole widzenia w przednim aparacie 5MP.
Ujęcia uchwycone za pomocą LG G6: selfie, wefie, zdjęcia zrobione obiektywem szerokokątnym, a nawet te stworzone w nowym trybie Square Camera, mogą być wyświetlane w jednym oknie w trybie filmowym. Dzięki temu użytkownicy nie muszą przechodzić do galerii w celu ich edytowania. Model G6 oferuje funkcję Square Camera, która dzieli wyświetlacz o proporcji 18:9 na dwa identyczne kwadratowe obrazy. Użytkownicy mogą robić zdjęcia w formacie 1:1 w jednym oknie, jednocześnie sprawdzając, edytując i udostępniając obrazy w drugiej części ekranu. Dodano także opcję tworzenia plików GIF, łączących od 2 do 100 zdjęć z galerii.
Smartfon posiada klasę wodo- i pyłoszczelności IP68. Dzięki temu można bez obaw zanurzyć go na 30 minut w wodzie o głębokości do 1,5 metra. Nowy LG pomyślnie przeszedł 14 różnych testów spełniających standard wojskowy 810G.
LG G6 to pierwszy telefon z wbudowanym Asystentem Google.
LG G6 - najważniejsze parametry:
Procesor: Qualcomm Snapdragon 821
Wyświetlacz: 5,7-calowy QHD+FullVision 18:9 (2880 x 1440 / 564 ppi)
Pamięć: 4 GB LPDDR4 RAM / 32 GB UFS 2.0 ROM / MicroSD (do 2 TB)
Aparat:

przedni: 5 MP, szerokokątny (F2.2 / 100°)
podwójny tylny: 13 MP, szerokokątny (F2.4 / 125°) / 13 MP standardowy z OIS 2.0 (F1.8 / 71°)

Bateria: 3300 mAh (wbudowana)
System operacyjny: Android 7.0 Nougat
Wymiary: 148,9 x 71,9 x 7,9 mm
Waga: 163 g
Sieć: LTE-A 3 CA
Łączność: Wi-Fi 802.11 a, b, g, n, ac / Bluetooth 4.2 BLE / NFC / USB 2.0 typ C (kompatybilne z wersją 3.1)
Kolory: lodowa platyna / mistyczna biel / kosmiczna czerń
Inne: ochrona przed wodą i pyłem / czujnik odcisku palca / funkcja UX 6.0 / format Dolby Vision / format HDR10 / funkcja Qualcomm Quick Charge 3.0 / 32-bitowy system Hi-Fi Quad DAC (tylko w Korei)
LG G6 - zdjęcia: